Our History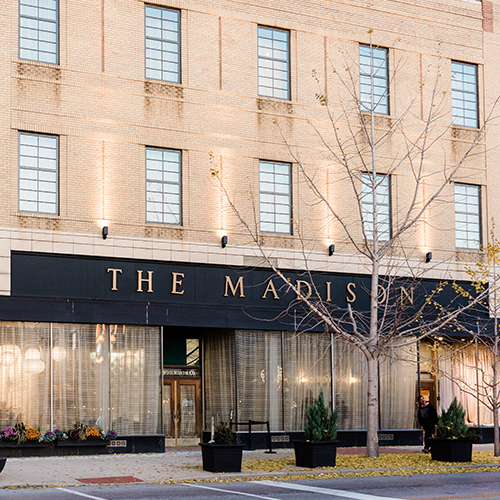 Long before the Salyers family purchased the historic Woolworth's building in Covington at the corner of Madison Avenue and 7th Street, the building was home to one of the first five-and-dime stores in the country. For more than 72 years, F.W. Woolworth sold discounted general merchandise, and after opening its lunch counter, it became a general gathering place for shoppers—and a precursor to the modern mall food court.
After purchasing the Woolworth's building, the Salyers family began a reconstruction project that turned the five-and-dime store into a stunning wedding and event center with four beautiful ballrooms. With the Woolworth name still etched above the entrance to The Madison, the Salyers family is reminded daily of the rich history and tradition of their Madison Avenue and 7th Street building. Today, as guests enter the Grande Ballroom, many can still remember walking down the same set of stairs to Woolworth's bargain-basement on shopping trips with their grandparents.
As the popularity and success of The Madison quickly grew, The "Madison South" opened inside another historic Covington landmark, the Tillman's Furniture building, which is located at the corner of Madison Avenue and 8th Street. With The Madison South came two additional ballrooms, three wedding chapels, and several suites to accommodate corporate events, rehearsal dinners and more.
After over two decades in the wedding and special events industry, the Salyers Group continues to couple historic elegance and charm with the Madison Event Center (North and South) as well as Donna Salyers' Fabulous-Bridal.